Friday June 29th, 2001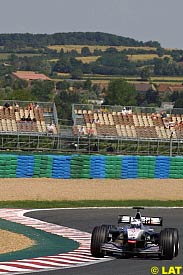 McLaren's David Coulthard boosted his morale ahead of the French Formula One Grand Prix by lapping nearly a second faster than Ferrari's Michael Schumacher in free practice.
The Scot won with a fine drive at Magny Cours last year and, although he is no great fan of the rural French track, needs a similar victory on Sunday to chip away at triple champion Schumacher's 24 point overall lead.
Coulthard lapped in 1:14.935, well inside Schumacher's 2000 pole position time of 1:15.632 and even further ahead of the race lap record set by Briton Nigel Mansell in a Williams nine years ago. Despite the lack of grip at the French circuit, Coulthard was happy with his progress during the session and confident for the rest of the Grand Prix.
"We worked on the car to find a good set-up for the race, and I'm confident that we have made progress," said Coulthard. "We went through a range of different possibilities and now we will look at the data and continue our work. The grip level was lower than when we tested at the circuit a few weeks ago."
Consistent scoring has helped Coulthard into a position to challenge for the title, but the team has struggled throughout the season to cope with the might of Ferrari and return to past form.
"It has been a good team effort and that gives us a lot of satisfaction," said Coulthard, satisfied with his time. "I think we've got stronger and we will keep trying.
"It shows that there is a fine line between success and failure and you will not see anyone in the team saying anything - but the championship is not lost, and that it is very important."
Teammate Mika completed a promising day for the Woking-based team by setting the fourth quickest time, but having learned from his experience at the European Grand Prix, the Finn played down the importance of today's times.
"Today we were focusing on finding the right configuration for the race and we made progress with the car throughout the session," said Hakkinen. "As always after Friday's practice you can never really tell where you are compared to the competition. Let's see what happens tomorrow."
Published at 14:08:01 GMT
---