Friday June 29th, 2001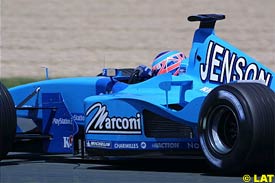 Benetton were without their new developments for Friday's French Grand Prix practice after deciding to concentrate on establishing a baseline set-up.
The team have taken a slump in form since engine supplier Renault, who will take over the team next season, decided to run a revolutionary and experimental wide vee-angle engine this year.
They claim the concept is successful but the team's performance so far this year has showed things have not yet developed satisfactorily, and Renault will introduce the new engine for Saturday's qualifying.
"Today we were running with our old-spec engine and without our latest aerodynamic parts," said Symonds, who went on to explain the decision was "because we were concentrating on finding a basic set-up for the cars."
The cars finished 17th and 20th at the hands of Jenson Button and Giancarlo Fisichella respectively, and Symonds believes the platform is set to move forward throughout the weekend.
"We feel we have found a good tyre for the weekend although we have a little way to go to balance our chassis," he said. "Both drivers felt the car was quite nervous in the high speed corners and that we needed to improve our exit speed in slow-speed corners."
Published at 14:12:00 GMT
---