Friday June 29th, 2001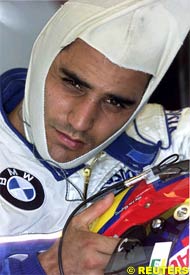 Juan Pablo Montoya has discussed the Williams team performance after Friday's two practice sessions at Magny Cours, and the effort that is going into the car ahead of Sunday's race.
Montoya feels that the Grove team must raise their game even more in order to challenge for victory race, despite Williams having already scored two wins so far this year.
"We have a car that is evolving, but we can be up there," said Montoya. "But to be at the top you have to be 100 per cent on your game. It is not easy. The car seems to be quite competitive, and it would be nice if it could be really competitive, but all we are concentrating on is making the car better overall.
"We had a good weekend at the Nurburgring, although we need to put it together in qualifying."
Montoya finished Friday's session for the French Grand Prix sixth in the times with his teammate Ralf Schumacher fifth. German Schumacher, who suffered an electrical problem during the morning session, was able to recover well in the afternoon and set a promising time ahead of the tenth round of the championship.
Schumacher said: "At the end of the second session my car felt quite good despite the fact, due to some technical problems, I couldn't do as many laps and as much set-up work as I would have wished."
Published at 14:36:41 GMT
---