Friday June 29th, 2001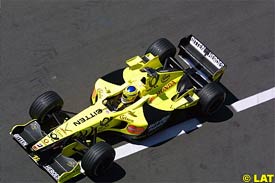 The Jordan team admitted they endured a positive day in France despite ending today's practice session lower than what the Silverstone-based outfit are accustomed to so far this year.
Italian Jarno Trulli, who has been consistently the fastest of the Jordan drivers during the 2001 season, posted the ninth quickest time of the day. Despite being more than a second slower than McLaren's David Coulthard, Trulli was happy with his progress and also claimed today's times were unimportant.
"It was a positive day," said Trulli. "We have developed a set-up for the race and I'm pretty happy with it. It's difficult to judge anything from the lap times overall today because some people were running with low fuel and went quicker as a result.
"But, for me, I'm pretty happy with what we've done. The circuit was a little bit slippery to start with but it got better as the day went on, the track getting closer and closer to the conditions we experienced during the recent test here."
Heinz-Harald Frentzen, like his teammate, was also happy with his Honda-powered car, the German being down in thirteenth place almost two seconds off the pace.
"The car was running very well," said Frentzen. "It was a good day's work for a Friday, and I'm quite happy with it. I did 45 laps, which was important for me because I hadn't been able to test here. I had a small problem with the brakes but we managed to work around that.
"There's a new exit to the pitlane, which makes the first corner quite a bit safer. This is the first time we have used it and it's a challenge to get through as quickly as possible because the exit is outside the pitlane speed limit and is effectively another corner."
Published at 15:09:43 GMT
---