Friday June 29th, 2001
By Alan Baldwin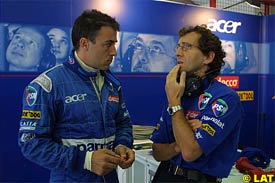 The banner, displayed next to a giant tricolour design, cascading down the end of the grandstand, left Alain Prost in no doubt about local loyalties at the French Grand Prix on Friday.
"Go Prost. Give us the Made in France team," it said.
The irony would not have been lost on the four times champion and Formula One team owner as he told a news conference in the media centre opposite how disappointed he was that French backers had abandoned him. The team's main driver Jean Alesi is French and the fans are still with him, but the money men are not.
"If I had to start over, I would still do it ... but certainly not with Peugeot and not in France. But one was tied to the other," Prost had told France Soir newspaper in an interview published earlier. The Frenchman, who took over Ligier and entered Formula One as a team owner in 1997 first with Honda and then Peugeot engines, touched on the subject further on Friday.
"The interest to do it in France was really to create a synergy around the team in terms of sponsors and all kinds of things," he said of his decision. All other teams in Formula One except Ferrari, Sauber and Minardi are completely British-based. Toyota, coming in next season, have their factory in Germany.
"Technically we could still be very, very strong in France because the technology is there...but obviously as you can see on the car it is not a French sponsor and it's very disappointing."
Asked whether he was now searching for backing mainly outside France, he replied: "completely."
Money worries
Brazilian Pedro Diniz took a 'significant' stake in the team last year after he had retired from driving in Formula One and the team's main sponsor is Miami-based PanAmerican Sports Network (PSN). Last year, Prost arrived in Magny-Cours in gloomy mood and needing an engine for 2001 after a rift with Peugeot, who quit direct involvement in Formula One at the end of last year.
Prost scored no points that year but have three in the bag already and on Friday he sounded far more confident about the future. Despite struggling for funds, and with media speculation about the continuation of his engine deal with Ferrari, the Frenchman said less cash was a problem but it also had a positive side.
He said talks were continuing with Ferrari about the engine deal but he was confident about the outcome and the team was already working on next year's car.
"What you need to have to be successful is obviously the highest budget possible but you need stability and you need to have the visibility for the medium to long term," he said. "I would prefer to have a lower budget but to know what is happening in the next five years, rather than having a big budget one year and then nothing down for the next.
"But I am very positive that we are working with a low budget and we are working well," he added. "Everybody's focus is to do the best with this money and it is very good for team. "Everybody is motivated to do the best job possible with less money and then when we get more money, because that is going to happen, it will be very good and very positive."
Published at 15:53:23 GMT
---