Friday June 29th, 2001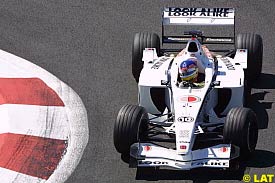 Jacques Villeneuve's French Grand Prix got off to a flying start after the British American Racing driver set the third quickest time in today's practice session at the Magny Cours circuit. But the Canadian admitted his times were not relevant because he was running with a low load of fuel.
Villeneuve was fastest for part of the second session, a welcome result for a driver who has not won a race since his championship winning year in 1997, but the Canadian played down the importance of his position and praised the car's new aerodynamics.
"It was a positive session today because we were able to do a lot of good work," said Villeneuve. "We took the fuel down to try to improve on our qualifying performance because that's where we have the most problems. We will only know where we stand tomorrow when everyone else runs in the same trim.
"The new aerodynamic package appears to work much better here than it did at the Nurburgring. It looks like we will be able to really make the tyres work for us so we're confident about tomorrow. We should be better in qualifying than we were at the previous race."
Published at 17:07:13 GMT
---