Friday June 29th, 2001
By Alan Baldwin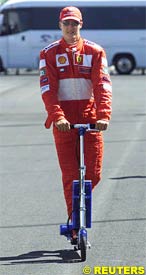 Jacques Villeneuve accused Ferrari's World Champion Michael Schumacher on Friday of ignoring the spirit of the Formula One rules with his controversial starts. And in a barbed comment, the British American Racing (BAR) driver suggested Schumacher's actions sat uneasily with the German's reputation as "Mr Safety."
Schumacher made headlines this week after he and his younger brother Ralf in a Williams started the European Grand Prix at the Nurburgring on the front row. Michael, who went on to win, started on pole and he veered across the track, forcing Ralf to back off to avoid a wall on one side and the Ferrari on the other.
Schumacher said afterwards that he had done nothing illegal. "Maybe from the outside it looks unfair but that's the way the rules are," he said after the race. Ralf this week also defended his brother, telling reporters that he would have acted in the same way.
The accepted interpretation of the rules, agreed after several meetings between drivers and officials, allow for one deliberate move off the racing line to protect a position. Villeneuve has been a regular critic of the German since they had a run-in at the season-ending race at Jerez in Spain in 1997 when the Canadian won the title but only after Schumacher had tried to push the Canadian off the track.
The BAR driver said he had not seen Michael's latest start but was surprised only to hear that it had happened to Ralf.
"I just saw pictures," he said. "But seeing the positions I could imagine how the rest of the start went. I'm just surprised that it was Ralf on the other side but that's how we've seen Michael do most of his starts in the last three or four years and nobody seems to think it's bad.
"I think it's a good example of following to the letter what is written in the regulation book even though it is not following the spirit of what was written," he said.
It was pointed out to Villeneuve that there have been several cases in smaller racing categories of crashes at the start caused by drivers changing their line.
"Smaller racers obviously look at what is happening in Formula One and who is winning and that is the example that is being followed," said the Canadian. "Everybody knows why it (the rule) was written and everybody understands it. It was written so you don't put someone on the grass, so you don't force someone else to hit the brakes.
"But then I guess if you just read it as it's written then it allows you to move at any time. That's not the intent of the rule. But I'm sure Michael can understand that because he's 'Mr Safety' after all, so I'm sure he's intelligent enough to understand the meaning of the rules."
Villeneuve, who has not won since 1997 but secured BAR's first podium earlier this season in Spain, said it was hard to say how a driver should respond when faced with such a tactic.
"I've been starting away from Michael for quite a time now so I'm not sure ... but if you don't lift and there's an accident, there's 20 cars coming behind you and there's a good chance you're going to get hurt," he said. "So it's a very difficult situation. I'm not sure what I'd do whether I would lift in that situation or not."
Published at 18:03:36 GMT
---