Saturday June 30th, 2001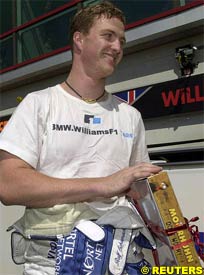 Birthday boy Ralf Schumacher shattered the lap record and seized the first pole position of his Formula One career at the French Grand Prix on Saturday.
For the third race in succession, the front row was kept in the family but this time older brother Michael could not match the Williams's turn of speed. But it was agonisingly close, with triple World Champion Michael's Ferrari crossing the line on his last flying lap just 0.01 seconds more slowly than Ralf's fastest time.
In Canada and at the European Grand Prix at the Nurburgring last Sunday, Michael was on pole with Ralf second but this time the junior Schumacher gave himself a perfect 26th birthday present.
Ralf's time of 1:12.989 blasted aside the previous lap record of 1:13.864 set by Briton Nigel Mansell - also in a Williams - in 1992 qualifying. It also left him perfectly placed to get his own back by preventing Michael securing his 50th career win and sixth of the season on Sunday.
Michael won the last race in Germany after a veering start that left Ralf with no choice but to back off or risk a collision either with a concrete wall or his brother's car. Mansell still holds the race lap record of 1:17.070 but one or other of the Schumachers, if not Ralf's Colombian team mate Juan Pablo Montoya, looks sure to smash that on Sunday.
Montoya was sixth fastest in 1:13.625. Briton David Coulthard, 24 points behind triple champion Schumacher and second in the overall standings, was third fastest in his McLaren ahead of team mate Mika Hakkinen in fourth place. Jordan's Jarno Trulli shared the third row with Montoya.
Once again, the battle at the sharp end of the grid appeared to be mainly between Ferrari and Williams, who have won more races at Magny-Cours than any other team. Benetton, who had hoped long-awaited engine improvements would push them up the grid, fared little better than earlier in the season with Italian Giancarlo Fisichella 16th and Briton Jenson Button behind him in 17th place.
French veteran Jean Alesi gave the home crowd little comfort with only the 19th fastest time in a Prost.
Pos  Driver        Team                    Times                 
 1.  R.Schumacher  Williams BMW       (M)  1:12.989  209.670 km/h
 2.  M.Schumacher  Ferrari            (B)  1:12.999    +    0.010
 3.  Coulthard     Mclaren Mercedes   (B)  1:13.186    +    0.197
 4.  Hakkinen      Mclaren Mercedes   (B)  1:13.268    +    0.279
 5.  Trulli        Jordan Honda       (B)  1:13.310    +    0.321
 6.  Montoya       Williams BMW       (M)  1:13.625    +    0.636
 7.  Frentzen      Jordan Honda       (B)  1:13.815    +    0.826
 8.  Barrichello   Ferrari            (B)  1:13.867    +    0.878
 9.  Heidfeld      Sauber Petronas    (B)  1:14.095    +    1.106
10.  Villeneuve    BAR Honda          (B)  1:14.096    +    1.107
11.  Panis         BAR Honda          (B)  1:14.181    +    1.192
12.  Irvine        Jaguar Cosworth    (M)  1:14.441    +    1.452
13.  Raikkonen     Sauber Petronas    (B)  1:14.536    +    1.547
14.  de la Rosa    Jaguar Cosworth    (M)  1:15.020    +    2.031
15.  Burti         Prost Acer         (M)  1:15.072    +    2.083
16.  Fisichella    Benetton Renault   (M)  1:15.220    +    2.231
17.  Button        Benetton Renault   (M)  1:15.420    +    2.431
18.  Verstappen    Arrows Asiatech    (B)  1:15.707    +    2.718
19.  Alesi         Prost Acer         (M)  1:15.774    +    2.785
20.  Bernoldi      Arrows Asiatech    (B)  1:15.828    +    2.839
21.  Alonso        Minardi European   (M)  1:16.039    +    3.050
22.  Marques       Minardi European   (M)  1:16.500    +    3.511

All Timing Unofficial

Published at 12:02:31 GMT
---