Saturday June 30th, 2001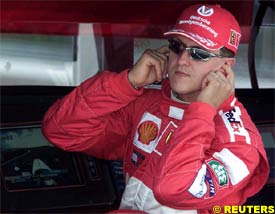 World Champion Michael Schumacher was finally beaten by his brother Ralf in the duel for pole position at the French Grand Prix, after the elder German had been the winner of the "Schumacher battle" in Canada and Germany.
But the Ferrari driver was happy to see his brother celebrating both his first ever pole and his 26th birthday.
"It's possible I could have gone a little bit faster on my last run, but it's the final result that counts. At least it's a nice way for Ralf to celebrate his birthday," said Schumacher, who had started in front of Ralf in the last two Grands Prix.
The three-time champion, who has scored seven pole positions out of ten qualifying sessions so far this year, was beaten by a mere one hundredth of a second, and claimed he could have been faster had he not being held up in his third run. The German also admitted the new pitlane exit at the Magny Cours track was not completely safe.
"On my third run I was held up by a Jordan. It was a shame, as it could have been my best run. As for the race, as far as I am concerned, the hotter the conditions the better as the new tyre Bridgestone has brought here seems to work well in all conditions.
"The new exit to the pitlane is not 100% satisfactory as cars going quickly through the corner drift towards the outside and the exit from the pits. We will discuss it again in the Drivers' Briefing."
A disappointed Rubens Barrichello had to settle for eighth place on the grid for tomorrow's race, the Brazilian not happy with his car's handling, but was confident of making up places in the race.
"I could not find the right set-up today," said Barrichello. "The car was very nervous under braking and that stopped me having a good session. For example, I had to abort my second run, because I went straight on at a corner as I could not control the car under braking. It was a really bad day.
"Now we have to work to find out how to improve the car for the race. Starting from the fourth row is not ideal, but with a good strategy, I think we can make up some places."
Published at 13:35:20 GMT
---