Saturday June 30th, 2001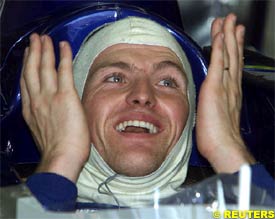 Ralf Schumacher claimed the first pole position of his Formula One career on Saturday beating the opposition of his elder brother Michael, and the Williams driver admitted he was ready to protect his position at the start in order to keep the Ferrari behind.
Ralf's pole, the first for his Williams team since Canadian Jacques Villeneuve at the 1997 European Grand Prix, also left him ideally placed to get his own back on older brother Michael in Sunday's race.
Michael won the last race in Germany after a veering start that left Ralf with no choice but to back off or risk a collision either with a concrete wall or his brother's car. This time Ralf's BMW-powered Williams should have enough acceleration to make a clean getaway but he kept onlookers guessing about whether he would give Michael a taste of his own medicine.
"I owe him one, definitely," said Ralf with a grin, later joking with his brother Michael. "He never would do it," said Michael, putting a hand on his brother's shoulder. "No, never ever," echoed Ralf.
"Well you know, it's a different way round this time," added the younger sibling. "And this time he is the car behind me and obviously he has to back off because he's behind me. End of story. I hope that since I am on pole position now I have a good start and then go away. That would be the perfect scenario...But I have to protect my position as he has. Normal thing, isn't it?"
Michael, who has been on pole seven times in ten races so far this season, made equally clear that he would not be surprised if Ralf shut the door on him.
Published at 14:09:08 GMT
---