Saturday June 30th, 2001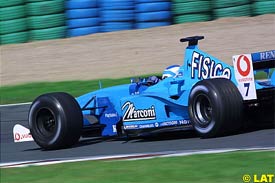 A new aerodynamic package and a new Renault engine did not help the Benetton drivers moving up the grid on Saturday in qualifying for the French Grand Prix, but the whole team were confident for a brighter second part of the season.
Benetton, who have scored only one point in nine races so far in 2001, introduced today a new evolution of the radical 111-degree Renault engine as well as some aerodynamics improvements in France.
Despite the news parts, Giancarlo Fisichella could only qualify in sixteenth place, but the Italian driver was much happier with his car and expected to began moving forward soon.
"We started this morning with the wrong set-up, but we managed to improve the car, which was fairly satisfying," said Fisichella. "Our new package is not yet fully sorted, but I am happy with the chassis balance. The latest engine evolution is definitely a step in the right direction ­ but I think you will see even better performances from us very soon."
Jenson Button was outperformed by his teammate for the ninth time in ten races, the Briton struggling to find the right balance for his car. However, the 21-year old was much closer this time and ended the day right behind Fisichella in seventeenth place.
"On our first qualifying run the car was well balanced, although it was a bit twitchy at the rear end," said Button. "I could handle that, but my run was spoiled because Eddie Irvine spun off in front of me. My second run was better, but I'm afraid I mucked up the next two because I was supposed to adjust the differential setting after Turn Two. Unfortunately, I forgot to do so on both occasions."
Published at 14:24:43 GMT
---