Saturday June 30th, 2001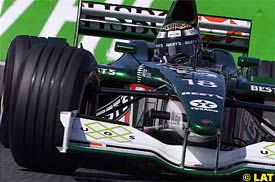 Eddie Irvine endured a frustrating day during qualifying but said he is optimistic about his chances during Sunday's French Grand Prix.
The Irishmen qualified in 12th position but believes that the car is feeling better than ever - despite going off the track on two separate occasions and being forced to use the T-car. Irvine set his fastest time on his first lap and admitted that his spare car felt slightly better than his race one.
"It was obviously disappointing to lose the race car but it's debatable whether I could have got further up the grid with it," said Irvine. "My first lap was bloody good although there was one corner where the car didn't select a lower gear as I was going a bit too fast and I lost a bit of momentum from that.
"The T-car was actually slightly better balanced than my race car but into corner seven the rear end of the car was very wayward and I half spun on my last lap. We know the car is good in race trim so if I push hard tomorrow you never know."
Teammate Pedro de la Rosa suffered a miserable afternoon after he was forced to miss most of the session through electrical problems but recovered to end the session 14th quickest. After eventually going out onto the track de la Rosa was satisfied with the balance of the car and managed to record his fastest time of the weekend so far.
"I had a problem with the electrics on my overhead gantry so that was why my start was delayed for 20 minutes," said the Spaniard. "We had made a few changes on the car since the warm-up this morning and it felt much better. I still, however, made a mistake on my fastest lap and if I had hooked it up perfectly, I would have been in the one minute fourteen seconds zone.
"On my last run, which was the best, I was pushing so hard I nearly went off and this cost me a lot of time. Nevertheless, the car felt better than it has all weekend and we will race hard tomorrow for points."
Published at 14:44:34 GMT
---