Saturday June 30th, 2001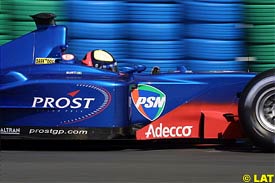 Brazilian Luciano Burti was happy to put the disappointment of today's practice session behind him to complete a good qualifying session where he outperformed his teammate Jean Alesi for the second time.
Burti, who is yet to score a point in his first full season of Formula One racing, struggled during this morning's practice but was much happier after setting the fifteenth fastest time on a disappointing day for the Prost day at their home Grand Prix.
"I think I can say I am happy, considering how much we have been struggling this morning in free practice," Burti admitted. "We chose to make some big changes on the car at midday and it went into the right direction.
"Seeing the first two intermediates for sure this would have given us a much better position on the grid. However, I just feel happy that I could make the most of the car. Let's see tomorrow."
Frenchman Alesi endured a torrid qualifying session that saw him posting his worst result of the season. Alesi, who suffered a high-speed spin at the start of the day, had to settle with a poor nineteenth place.
"I feel upset because we have never managed to set-up the car properly since the start of the weekend," said Alesi. "This is my worst qualifying result so far, and I am very disappointed that it happened in front of my home crowd. Now I just want to move on and get ready for tomorrow."
Published at 14:52:47 GMT
---