Saturday June 30th, 2001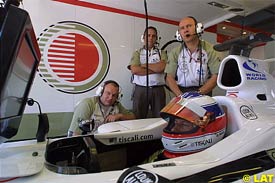 Frenchman Olivier Panis was bitterly disappointed after qualifying eleventh for the British American Racing team at the veteran's driver home Grand Prix.
Panis, competing at his 101st Grand Prix this weekend, was frustrated not to be able to get the best out of his Honda-powered car due to the heavy traffic at the French Magny Cours track, and claimed he could have ended much higher up the grid.
"To be honest I'm very disappointed with 11th position," confessed Panis. "I felt that, today, we had a car that was capable of maybe 7th or 8th place but we didn't get the best from it because I had bad traffic on my final flying lap. Qualifying is still difficult for us so we need to improve our performance there."
Canadian Jacques Villeneuve was, on the other hand, happy with his performance today, ending the session right in front of his teammate in tenth place. However, the 1997 World Champion was confident of a better result in tomorrow's race.
"We had a reasonably good qualifying session today ­ the car was very drivable so I could push it quite well. In the last couple of races we've improved our set-up a lot and made a big step forward. We've made some positive aerodynamic developments but the competition is very strong this year.
"I'm looking forward to the race ­as with the Nurburgring, we know we will perform very well in race trim."
Published at 15:56:01 GMT
---