Saturday June 30th, 2001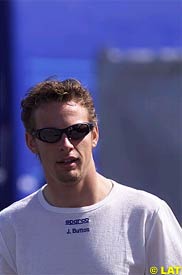 Jenson Button is not expecting a major improvement in the performance of his Benetton at Sunday's French Grand Prix. Benetton introduced a new aerodynamic package for Saturday's free practice ahead of qualifying, but Button said the improvements were not likely to make a major difference.
"The new developments have made some improvements to the car but we didn't expect it to be a major leap forward," Button said after qualifying 17th. "We still had to learn how the car would adapt throughout the day. This race is good for the team, from the point of view that the car is getting better, but it is not 100 percent. We are not happy with qualifying but we are moving up and that is the important thing."
Benetton will be renamed as Renault next season and are developing a revolutionary V10 engine. They will use a new spec of the power unit in the race on Sunday, but Button said that more work is still needed in preparation for next season.
"There is still a lot of hard work to do, but we have a new engine for the race and it will be interesting to see how that affects the car," Button added. "It is all geared for next year and that is what we need to look towards rather than the results now."
Benetton's technical director Mike Gascoyne said the target for Sunday's race was to get Button and his teammate Giancarlo Fisichella, who will start 16th on the grid, to the finish.
"During the free practice session we introduced a new aerodynamic package and it took us a bit of time to find a reasonable balance," Gascoyne said. "We have a new race engine spec for tomorrow and must look to get both cars to the finish."
Published at 18:48:09 GMT
---