Saturday June 30th, 2001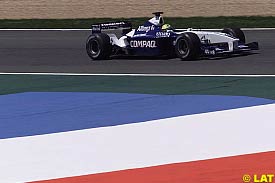 Ralf Schumacher scored on Saturday Michelin's 58th pole position in Formula One, the first time the French tyre manufacturer will start from the top spot since 1984.
At that year's Portuguese Grand Prix, Brazilian Nelson Piquet at the wheel of a Brabham BT53 was the last man to clinch a pole position for Michelin before Williams' Schumacher beat the opposition of his brother Michael in today's qualifying for the French Grand Prix to give the French marque their first pole in nearly seventeen years.
Both Michelin and the Williams team were delighted after qualifying but vowed to concentrate in obtaining a good results in Sunday's race.
"This pole position proves that we have taken another step forward in our development curve, which is really satisfying," said Michelin's boss Pierre Dupasquier. "Ralf Schumacher drove absolutely superbly.
"He was slightly slower than his brother through one sector, but overall he managed to stay ahead and everyone at Michelin would like to congratulate him warmly. Now, however, we must turn our focus to the race."
"This result simply confirms the progress made by the combined forces of BMW, WilliamsF1 and Michelin," said BMW motorsport's Gerhard Berger. "We are delighted. The tyres played a key role in qualifying today and I take off my hat to the personnel at Michelin, who have done a great job since they came back to F1. Bravo."
Published at 19:11:36 GMT
---