Thursday March 1st, 2001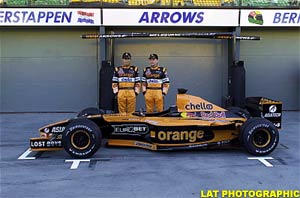 Arrows finally unveiled their 2001 challenger at Albert Park on Thursday, with the promise that it can better the team's performance from last year.
The A22 is an evolution of last year's car and remains the colour of title sponsor Orange. But sponsorship from Red Bull also features heavily thanks to the arrival of Enrique Bernoldi.
"We had a good season in 2000 but we feel we can do better in 2001," said team-boss Tom Walkinshaw. "I hope the technical collaboration of Arrows, Asiatech, and Bridgestone will deliver the results."
Whilst many designers have claimed a complete re-design of the cars was in order for this season, Arrows technical director Mike Coughlan said their new challenger will provide a solid platform to base the season upon.
"The key for the team this year is to keep up the forward momentum and we hope this evolutionary design will provide the platform for this," said Coughlan.
The team's main driver Jos Verstappen backed Coughlan's view and said: "It's hard to tell exactly what the car will be like after only a few runs, but I can say that it feels similar to last year's car."
---