Thursday March 1st, 2001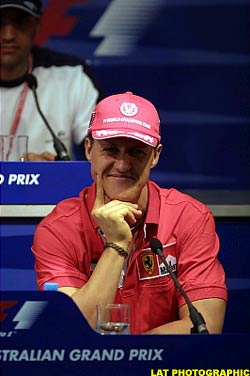 Michael Schumacher wants to land a fourth world title this year and he believes Ferrari's backroom staff will be central to his hopes becoming reality.
The German driver won last year's Australian Grand Prix and he plans to kickstart his championship bid this year with another win in the season-opening race at Albert Park.
"It would be great to kick off the season with another win," said Schumacher. "But we will be treating the year just like we have all the others in the past, with maximum effort at each race - and if we win a few along the way that's a nice bonus."
Schumacher has played down the performance of the new F2001 but he has confidence in the car after successful pre-season testing. Now he is eager to compare it with rival teams in competitive racing.
He said: "I am sure we will be quick, but just how much progress the opposition have made over the winter we will know better on Saturday afternoon after qualifying."
---