Thursday March 1st, 2001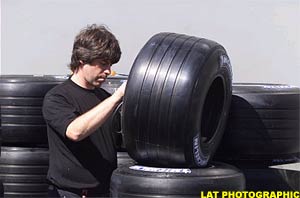 The return of "tyre wars" to Formula One would make the 2001 season the most exciting in years, reigning world champion Michael Schumacher predicted on Thursday.
The German said the variety in tyres would add a mystery element to the new season which had been missing in previous years.
"It's going to be a good season," the Ferrari champion told a news conference on Thursday.
"I think it's healthy for Formula One, it's healthy for the public because we're going to have a chance of more overtaking."
Tyres have not been a performance factor in the past two seasons, with Japanese manufacturer Bridgestone supplying all 11 teams after Goodyear quit at the end of 1998.
But Michelin are returning this season, supplying Williams, Jaguar, Benetton, Prost and Minardi.
The rivalry between the two suppliers is sure to be intense and likely to create great variances in the performances of the rival teams over the course of the season as they experiment with ways of finding an edge.
McLaren boss Ron Dennis said the tyre changes agreed with Schumacher's forecast that it would add a new element to the sport and would lead to some surprising results.
"It's going to be a competitive season and we'll definitely see some strange grids," Dennis said.
"We'll probably see tyre companies choose a tyre which gives qualifying performance superior to the other and yet, in racing performance, the stability of the tyre will perhaps create a reversal in the races.
"(This) means we're going to see cars overtaking more this year than we have in the past as tyre choice plays a role in the outcome of the race."
But Dennis said the tyre wars could also end in tears because of the sport's loose definition on tyre wear.
Under FIA rules, Formula One tyres must each have four grooves at least 2.5 millimeters deep. Slicks -- fast, smooth tyres -- were banned at the end of the 1997 season in an attempt to limit top speeds.
However, the state of tyres at the finish remains a grey area and last season some cars were finishing races with the grooves on their tyres almost worn away, making them tantamount to slicks according to some.
No one would have been in a position to complain in 2000 but this year an aggrieved rival could question the legality of the other manufacturer's tyres.
"There's a possibility of a little controversy coming out of post-race inspections," Dennis said.
"Clearly tyre companies want to win. In these early races, they are probably going to be a little conservative on compound choice.
"But of course there's still room for them getting it wrong and that means there's a possibility of tyres being devoid of grooves at the end of a race.
"I think it's something that everybody is anticipating not least the tyre companies...and we'll find ourselves with some controversy."
---