Thursday March 1st, 2001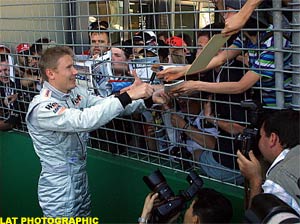 Mika Hakkinen has been given added motivation to chase a third world drivers' title after Michael Schumacher captured his crown last season.
"It definitely boosts the team to work harder and try harder, including me of course, and try to win it back again," the McLaren driver told a news conference on Thursday ahead of Sunday's season-opening Australian Grand Prix.
"So now we start from a fresh base. We know how sweet it is to have it (world title) so we want to keep it," the 1998 and 1999 world champion added.
"It is a different situation indeed, yes. It is in one sense interesting to start the season not as number one."
Hakkinen, who was runner-up to Ferrari driver Schumacher last year, tried to play down talk of reliability being a negative factor for McLaren in particular on Sunday.
"Certainly when the testing has been done there have been certain problems," the Finn said. "But it should not be an issue at all at the moment."
In keeping with the light-hearted mood of Schumacher at Thursday's media appointments, Hakkinen said failure was a big motivation but this could only extend so far.
"Sometimes the failure does motivate you. But if there are too many failures then it is not so motivating any more," Hakkinen said, smiling.
"Last year was a difficult one but the two years before that were fantastic. Let's hope this year is different."
Hakkinen was concerned, however, about the prospect of 47 degrees Celsius temperatures in Melbourne on Sunday.
"Well, yes basically. It's going to be a problem for everybody, certainly," he said.
"I don't think there are many teams who have been testing (tyres) in very hot temperatures, for example, so the reliability is an even bigger issue.
"Driving-wise I don't think this circuit is more physical or more difficult to drive in a hot temperature compared to, for example, a Brazilian track."
While Hakkinen was cool on Thursday, his team boss Ron Dennis showed a little more emotion.
When a journalist asked if the birth of Hakkinen's son Hugo before Christmas had changed his approach to things, Dennis remarked: "Are you writing for a women's magazine?"
"The quality of the answers are very much determined by the quality of the question, you should know that," Dennis said.
Hakkinen said fatherhood was "great", and when asked if it had changed his approach, he said: "I can't answer that."
Dennis added: "Logically the answer is that if you are a committed sportsman, the first thing you do is shut everything out when you participate in your chosen sport."
---