Thursday March 1st, 2001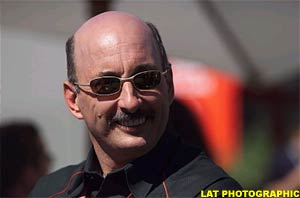 Bobby Rahal wants his Jaguar team to be judged on their results -- and said they will enjoy success this year.
Jaguar struggled last year as they scored just four points but Rahal is convinced they will have a change in fortunes this year, despite Eddie Irvine's criticism of the new R2 car.
"I'm not sure what Eddie has said," commented Rahal. "He's really committed to this team, and frankly we're not going to let all the things distract us from what our job is.
"I think all too often, particularly at this time of year, there's a lot of talk and out mantra is under-promise and over-deliver.
"I anticipate we'll do that. I don't expect miracles, but our team is committed to the future."
Irvine claimed the team are "understaffed" but Rahal, who has made a number of changes since his arrival in December, is convinced the necessary figures have been put in place.
"I think we have enough good people to do the job and over time we'll expand," Rahal said. "I don't think that's going to be our issue.
"Our issue is to really get back to basics and put in place the people who can do the job, which we are doing."
Jaguar will be looking to better their performance in last year's Australian Grand Prix, where their cars were the first two to retire from the race.
---