Thursday March 1st, 2001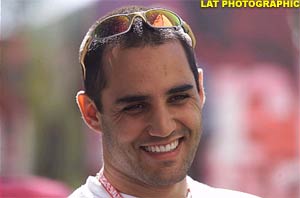 BMW-Williams new-boy Juan Pablo Montoya is convinced that the technology in Formula One makes his job easier.
Montoya has spent the winter acclimatising himself with the demands of Formula One and he believes it is less physical than America's Champ Cars, where he spent two years prior to his arrival in Grand Prix racing.
"It's not that they are easy to drive," said Montoya. "But you have so many driving aids like power steering that it makes your life a bit easier."
Montoya is one of the new drivers in Formula One this season. He is fast, but two-time world champion Mika Hakkinen believes Williams' choice of Michelin tyres will affect Montoya's performance.
Hakkinen said: "There could be occasions when they can perform well and occasions when they probably are not so good - but I hope he is not too fast."
Schumacher added to Hakkinen's opinions of Montoya and said: "He must have talent, otherwise they [Williams] wouldn't have signed him up."
---