Friday March 2nd, 2001
By Julian Linden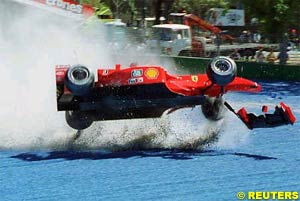 World Champion Michael Schumacher walked away from a spectacular high-speed crash on Friday during free practice for the season-opening Australian Formula One Grand Prix at the Albert Park street circuit.
The German flipped his Ferrari twice then slammed into a wall of tires after losing control of his car while braking just before the end of the day's second hour-long session.
Schumacher was not injured in the accident and climbed out of the cockpit unassisted. But he took no further part in the session and had to settle for the third fastest time overall.
The pacesetter on Friday was Schumacher's teammate Rubens Barrichello, who clocked a lap record of one minute 28.965 seconds.
The Brazilian slashed almost one-third of a second off Jacques Villeneuve's 1997 lap record during the 60-minute morning session before going one-tenth of a second quicker in the afternoon.
But the big surprise was Jordan driver Jarno Trulli of Italy who beat Schumacher's best time in the final seconds of the session to be second fastest overall.
Scotland's David Coulthard and Mika Hakkinen of Finland were fourth and fifth quickest in the McLarens with Ralf Schumacher sixth in his Williams.
The morning session had been relatively incident-free as Ferrari and McLaren, the only teams to win races last year, again showed the opposition a clean pair of heels.
Both Ferraris broke Villeneuve's four-year-old lap record inside the first half-hour while the two McLarens dipped under the time Hakkinen set to take pole position 12 months ago.
But things immediately began to hot up in the afternoon session as the teams all strove to improve their morning times.
More than half the drivers ran off the track and onto the grass at some stage or another.
The session was halted for six minutes when Luciano Burti lost control of his Jaguar coming out of the first chicane and slammed sideways into a concrete barrier.
He was unhurt but stewards were forced to unfurl the red flag and briefly stop the session while the track was cleared of debris.
The Minardi of Spaniard Fernando Alonso blew an engine while Briton Jenson Button's Benetton punctured a rear tireand Germany's Nick Heidfeld crashed his Sauber.
Schumacher crashed on the same corner as Heidfeld, spinning wildly as he approached the right-hander.
He continued spinning over the kerb but as soon as he hit the gravel his Ferrari was flung into the air, flipping twice before coming to a rest against a wall of tires.
Pos  Driver        Team                  Time                  
 1.  Barrichello   Ferrari          (B)  1:28.965  214.588 km/h
 2.  Trulli        Jordan Honda     (B)  1:29.267    + 0:00.302
 3.  M.Schumacher  Ferrari          (B)  1:29.284    + 0:00.319
 4.  Coulthard     McLaren Mercedes (B)  1:29.324    + 0:00.359
 5.  Hakkinen      McLaren Mercedes (B)  1:29.799    + 0:00.834
 6.  R.Schumacher  Williams BMW     (M)  1:30.277    + 0:01.312
 7.  Heidfeld      Sauber Petronas  (B)  1:30.345    + 0:01.380
 8.  Frentzen      Jordan Honda     (B)  1:30.802    + 0:01.837
 9.  Alesi         Prost Acer       (M)  1:31.089    + 0:02.124
10.  Panis         BAR Honda        (B)  1:31.166    + 0:02.201
11.  Raikkonen     Sauber Petronas  (B)  1:31.453    + 0:02.488
12.  Villeneuve    BAR Honda        (B)  1:31.559    + 0:02.594
13.  Irvine        Jaguar Cosworth  (M)  1:31.573    + 0:02.608
14.  Verstappen    Arrows Asiatech  (B)  1:31.669    + 0:02.704
15.  Montoya       Williams BMW     (M)  1:31.721    + 0:02.756
16.  Fisichella    Benetton Renault (M)  1:32.475    + 0:03.510
17.  Alonso        European Minardi (M)  1:32.587    + 0:03.622
18.  Burti         Jaguar Cosworth  (M)  1:33.011    + 0:04.046
19.  Mazzacane     Prost Acer       (M)  1:33.153    + 0:04.188
20.  Bernoldi      Arrows Asiatech  (B)  1:33.203    + 0:04.238
21.  Button        Benetton Renault (M)  1:33.403    + 0:04.438
22.  Marques       European Minardi (M)  1:36.463    + 0:07.498

All timing unofficial

---