Friday March 2nd, 2001
By Roger Horton, Melbourne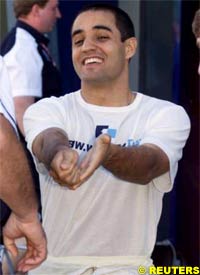 Former CART champion Juan Pablo Montoya had a difficult initiation to Formula One at the season opening Australian Grand Prix.
The Colombian managed a total of 37 laps during the two one-hour sessions, but could managed no better than fifteenth fastest time in his BMW-Williams, nine places behind his teammate Ralf Schumacher who was sixth.
"I have been struggling a bit with the set up of the car today," Montoya said. "But I've done some learning today, on a track that was new to me. The main problem for us was a big understeer and when you have such a problem you loose a lot of time."
Meanwhile, Ralf Schumacher was confident that he would be able to qualify in the top eight for Sunday's race, where last year he finished in third position.
"We are not really there where we would like to be but the season is just at the start," said Schumacher. "The gap to the top is bigger than we expected and we need to work on that.
"We struggled with understeer which appears to be tyre related - but this is no surprise. With Michelin we are in a completely new situation. I believe anyway that tomorrow we could qualify in the top eight."
---