Friday March 2nd, 2001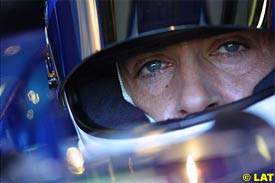 The Prost Acer team had a promising start to the new season on the first day of practice for the Australian Grand Prix, as Jean Alesi posted the ninth fastest time of the session.
Alesi, driving the new AP04 with the re-badged Ferrari engine, set impressive times during the pre-season testing sessions, and the Frenchman was glad to see the car was fast too in Melbourne.
"I am very happy and relieved at the end of the first day," Alesi said. "The winter tests went extremely well and both the team and myself were very anxious to see how we would perform here. So, being in the top ten today, is a great start for us.
"The car is behaving very well and now it's a matter of finding a good setup for this track, for tomorrow's qualifying. Since we have been very competitive an the Barcelona and Estoril circuits in testing, I think we have a fairly high chance for a good position on the grid."
Team-mate Gaston Mazzacane, who joined the team from Minardi this year, finished the session in 19th place, but he was pleased with how things developed for him.
"I am satisfied with this first session," Mazzacane said. "We did not have any mechanical problem and therefore I was able to do quite a lot of laps, working on different setups and brakes. We ran with high-fuel level to improve the car's balance. I am confident that we are going in the right direction for a good qualifying."
---