Friday March 2nd, 2001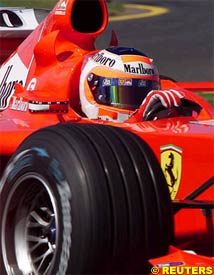 Ferrari's Rubens Barrichello topped the times in Friday's free practice for the Australian Grand Prix and then admitted the new F2001 handled perfectly.
Brazilian Barrichello outpaced his rivals in the opening practice session of the season as his team-mate Michael Schumacher spectacularly crashed out late in the session.
Barrichello said: "We've done a good job of adapting the car to the track conditions here.
"Although I am pleased to be first, the main satisfaction comes from having been able to accumulate new data as regards the handling of the F2001."
Ferrari's sporting director Jean Todt was also pleased with the performance of the new car, and said: "I would say first impressions with the F2001 are favourable.
"I think we have good potential even if today did not paint a clear picture of the pecking order of the teams. We concentrated on finding the best settings for the car and I think we are working in the right direction."
Ferrari's encouraging start to the year was dealt a blow with Schumacher's crash. The reigning world champion rolled his car in turn six, and the team now face a frantic battle to repair it.
"We must check the chassis for damage," said Todt. "Our first impression is that it is repairable."
The accident happened when Schumacher failed to see the yellow flag warnings at the side of the circuit after the Sauber of Nick Heidfeld had gone off at the same turn.
"He simply did not see the yellow flag," explained Todt. "At the last minute he thought it was at corner number five and it happened to be at number six, and when he saw it, he braked hard and spun.
"The reason that the car flipped over was because the gravel wasn't flat. It flew in the air and turned over. The gravel was a bit bumpy and it should be flat."
Schumacher has already criticised the circuit for what he described as a "step" on the outer kerb, which launched his Ferrari into the air.
The team had discussed problems in a number of areas around the circuit with officials on Thursday but the curve where Schumacher had his accident remained unchanged.
"I think there should be some improvement," demanded Todt. "We mentioned it to the clerk of the course on Thursday, so hopefully we will get a more positive answer now.
"We asked for improvements in a few corners but most of them were modified. This one wasn't."
---