Friday March 2nd, 2001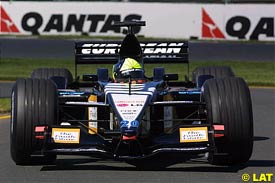 European Minardi team-boss Paul Stoddart admitted that he can do nothing to stop his team from retiring after Fernando Alonso and Tarso Marques endured a problematic free practice in Australia.
Marques was left at the bottom of the timesheet after the engine failed in his car at the start of the second session and Stoddart accepted that retirements will happen in the race.
Stoddart said the problem with the re-badged European engines (previously Fondmetal) had been identified, but he did not expect improvements until the Spanish Grand Prix in April.
"It was the engine," said Stoddart. "We know we've got to wait until Barcelona before we cure the problem. But we know what the problem is. It just takes time to manufacture the components and cure the problem.
"The number of engines we have is not an issue for us. We can't stop blowing them up, but we've got more to put in if they do. We'll have fresh engines for the race."
Marques bemoaned a "wasted day" as he hoped to get more miles on the PS01 car, which has so far only had limited testing since Stoddart took over the team in January.
"I felt disappointed at not being able to continue," said Marques. "We really need to pile up as many miles as possible and it turned out to be a bit of a wasted day."
Marques' team-mate Fernando Alonso, the youngest man on the grid at 19, finished 17th in the times and said that only a few small changes are needed to make the car more competitive.
Alonso said: "Now the car has completely changed and it looks more competitive. We will probably only make a few slight changes now to improve the car further. The potential is definitely there."
---