Friday March 2nd, 2001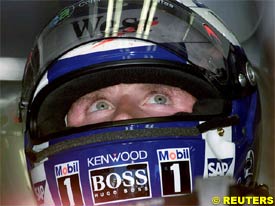 Mika Hakkinen and Ron Dennis both insisted that tyres will play the most significant role in Sunday's Australian Grand Prix and said McLaren's free practice had been about choosing the right compound.
Finn Hakkinen concentrated on making the right tyre choice and the balance on his MP4-16 during the session, and team-boss Dennis admitted the work was an important part of the preparations for the Albert Park race.
"We spent the majority of the time learning about how the tyre compound reacts in the temperatures experienced at the track," said Hakkinen, who finished fifth in the times.
"I also managed to achieve a good feel for the circuit and get the balance of the car to a level which can help us ensure we are on the front row for Sunday's race."
Dennis added: "How a car works on these tyres is going to be quite critical to the outcome of this Grand Prix. Inevitably, as you pick up time you lose durability.
"As you go towards an optimum race tyre, you will arrive at a situation where the balance will be critical to the consistency of the lap time."
Hakkinen was beaten in the times by his team-mate David Coulthard, who finished fourth, commended the grip he had on his car on a day when most cars slipped off the track.
Coulthard said: "I'm pleased with our performance. The big issue at this track is to get front-end grip and I was pleased to see how well the car responded to the mechanical grip we have."
---