Friday March 2nd, 2001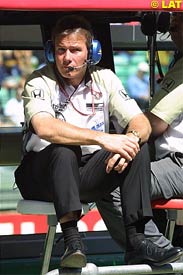 British American Racing managing director Craig Pollock was less than impressed after his team lost out in the battle with Honda rivals Jordan in Friday's free practice in Australia.
Both Jordan Hondas ended the practice session in the top ten, while Olivier Panis scraped into the top category by landing 10th place. Pollock admitted an improvement is needed.
Pollock admitted: "Overall I am a bit disappointed as it seems on the face of it we are lacking a little bit on performance."
The Scot revealed the team will be working hard to set things right after a surprisingly uncompetitive performance.
"We have collected a significant amount of data which will help us improve and we will be working hard on that overnight," added Pollock.
Panis was pleased to have made it into the top ten on his return to Grand Prix racing, but he also believes they need to put in more effort to climb back up the grid.
"I am happy to be back racing," said the Frenchman. "I am happy with the balance of the car, although we still have a lot of work to do before qualifying."
Jacques Villeneuve was not so satisfied after setting 12th fastest time as gearbox problems hampered him in the early session.
"I did not have a great day," said Villeneuve. "The car felt good but we need to look at our information now to help us improve."
---