Friday March 2nd, 2001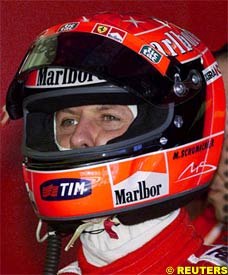 World champion Michael Schumacher said on Friday he would reluctantly wear a sponsor's helmet after a Belgian court issued an injunction to stop him appearing in a rival firm's helmet that he claims is safer.
The legal wrangle over Schumacher's helmet meant it was already the centre of attention on Friday, but it became an even bigger issue when the German flipped and crashed his Ferrari during a practice session then walked away unscathed.
Schumacher wore a Schuberth Helme helmet during the practice for Sunday's season-opening Australian Grand Prix rather than the Bell helmet he is contracted to wear.
But he told reporters the court's ruling on Thursday did not come into effect until midnight Friday Australian time.
Schumacher added that he would comply with the court order and wear the Bell helmet in practice on Saturday and during Sunday's Grand Prix.
"Obviously after this decision now from Brussels I am forced to use the Bell helmet again which obviously is not what I wish to do because I felt very happy with the Schuberth helmet," Schumacher said.
He was ordered by the Belgian court to wear a Bell helmet or pay millions of dollars in damages to Sports Europe, the Belgium-based distributor of Bell Helmets.
The company had turned to the court after 32-year-old Schumacher was seen at Formula One trials in Barcelona last month wearing a Schuberth Helme helmet.
Sports Europe said this broke an exclusive deal signed by Schumacher to wear their helmets until the end of this year.
In Thursday's ruling, Judge Christine Dalcq ordered Schumacher to use the Bell helmet in practice and for Sunday's Melbourne Grand Prix.
Failure to do so would make him liable to pay damages to Sports Europe of five million Belgian francs ($115,300) for every day he did not.
Lawyers for Schumacher have said he had chosen the German brand Schuberth Helme because it was safer.
They had argued that commercial considerations could not be enough to force him to put his security at risk by using equipment he no longer felt comfortable with.
---