Friday March 2nd, 2001
By Julian Linden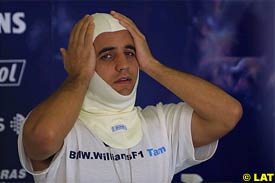 They may not have challenged the likes of Michael Schumacher and Mika Hakkinen in setting the pace for this weekend's season-opening Australian Grand Prix, but Formula One's new faces at least managed to keep out of trouble during Friday's free practice session.
There had been some concerns in motor racing circles about the new wave of drivers making their debuts this weekend but those were quickly forgotten as the four new debutants made impressive starts to their careers.
Finnish driver Kimi Raikkonen provided the biggest surprise. Rivals teams had warned that the 21-year-old was too inexperienced for Formula One after just 23 single-seater outings in his career and feared he could cause an accident.
Even Formula One supremo Bernie Ecclestone admitted he did not think the Sauber driver should have been awarded a super-license.
But Raikkonen clocked the 11th fastest time overall to finish in the top half of the field, ahead of the likes of former world champion Jacques Villeneuve.
"Today was a good start to my Formula One career," Raikkonen said.
"I didn't come here with any specific expectations. I just wanted to take things as they came and let the situation develop so I'm really happy to be 11th."
While Raikkonen was fending off his critics even before he'd got behind the wheel, Juan Pablo Montoya arrived in a blaze of publicity after winning the 1999 American Champ Car title.
The Colombian had problems with his Williams during the second afternoon session but managed to finish a creditable 15th.
"I was struggling a bit with the set-up of the car but I learnt a lot today on a track that was completely new to me," Montoya said.
Brazilian Enrique Bernoldi also experienced some mechanical problems in his Arrows in finishing 20th overall, while Fernando Alonso took his Minardi into 17th spot, five places ahead of his more experienced team mate Tarso Marques.
Minardi have taken just one point in five years and didn't even have a car six weeks ago. Team owner Paul Stoddart said Alonso had done an amazing job.
"He was a little bit nervous before the first session but now he's cool, calm and collected," Stoddart said.
"I think all the new drivers did incredibly well."
Last year's new kid on the block, Briton Jenson Button, agreed, arguing that the class of 2001 were up to standard.
"They seem to be doing a good job. They deserve to be there," he said.
---