Friday March 2nd, 2001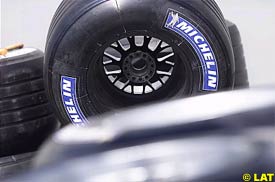 French tyre supplier Michelin had an eventful but promising return to Formula One after seventeen years, on the first day of practice at the season opening Australian Grand Prix.
Michelin, who joins Japanese manufacturer Bridgestone as tyres provider in Formula One, saw how two of their drivers - Jaguar's Eddie Irvine and Benetton's Jenson Button - suffered a puncture during the session.
However, the company was happy with today's results after Williams driver Ralf Schumacher ended the session in a very promising sixth place, while Prost's Jean Alesi was ninth.
"We are very satisfied with the results of Ralf Schumacher and Juan Pablo Montoya, who with different tyre strategies and with a reasonable fuel load, set quite significant times," said Michelin boss Pierre Dupasquier. "It is also great to see Jean Alesi in the top ten times.
"At this early stage, it would seem that our initial thoughts about the circuit were correct: it is quite aggressive today with consequently relatively high rates of tyre wear, but this should evolve over the weekend.
"The fast times compared to last year are a surprise though."
Rubens Barrichello, who set the fastest time on Friday, was almost four seconds quicker than in last year's first session, demonstrating the amount of work that both Michelin and Bridgestone have carried out before the start of the season.
---