Saturday March 3rd, 2001
By Julian Linden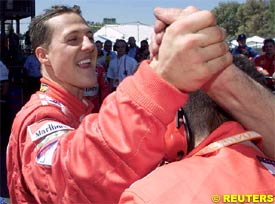 World champion Michael Schumacher seized pole position on Saturday for the season-opening Australian Formula One Grand Prix.
The German showed no side effects from a frightening high-speed crash the previous day as he fearlessly charged around the Melbourne street circuit in his Ferrari in a record time of 1:26.892.
His Brazilian team mate Rubens Barrichello gave the Italian team a sweep of the front row for Sunday's race with the second fastest time of 1:27.263.
It was the 33rd pole of Schumacher's career and his first in Australia in 11 attempts. The German won last year's race for the first time.
Schumacher offered his thanks "to my mechanics who had a very late night, or early morning, due to my little problem or off yesterday.
"They had to repair and work very hard overnight and that gave me a fantastic car again to work with and to qualify first. Great job."
Finn Mika Hakkinen clocked the third fastest time of 1:27.461 for McLaren after starting the Melbourne race from pole position in the previous three years.
Germany's Heinz-Harald Frentzen was fourth in a Jordan ahead of Ralf Schumacher's Williams and Hakkinen's teammate David Coulthard.
The session was stopped for ten minutes when Luciano Burti was involved in a heavy crash twelve minutes from the scheduled finish.
The Brazilian walked away uninjured after smashing his Jaguar into a concrete wall but stewards ordered the session to be halted because of the debris on the track.
Minardi's Tarso Marques was the only driver not to qualify. The Brazilian missed out because his best time of 1:33.228 was more than 107 per cent outside Schumacher's pole time.
Schumacher was already on pole midway through the first session when he posted a lap time of 1:27.516 before Barrichello pipped him by one one-thousandth of a second, the smallest possible margin in Formula One.
But the German returned to the track to reclaim the pole with his record lap and although Barrichello improved his time again he was unable to beat Schumacher.
Enrique Bernoldi of Brazil, one of four debutants in the race, was the first driver onto the track but his time of 1:31.326 was quickly overtaken by Canada's former world champion Jacques Villeneuve.
Hakkinen, runner-up to Schumacher in last year's drivers world championship, briefly replaced Villeneuve at the top but was quickly passed by the two scarlet Ferraris.
Bernoldi finished 18th overall, one place ahead of another Minardi newcomer Fernando Alonso.
Colombian Juan Pablo Montoya was the highest placed of the debutants, qualifying 11th in a Williams, while Finn Kimi Raikkonen was 13th in a Sauber.
Briton Jenson Button, who made his debut with Williams last year, will start his first race for Benetton ahead of more experienced Italian team mate Giancarlo Fisichella. Button qualified 16th fastest, Fisichella 17th.
Pos. Driver        Team                  Times                
 1.  M.Schumacher  Ferrari          (B)  1:26.892  219.707 km/h
 2.  Barrichello   Ferrari          (B)  1:27.263    +    0.371
 3.  Hakkinen      McLaren Mercedes (B)  1:27.461    +    0.569
 4.  Frentzen      Jordan Honda     (B)  1:27.658    +    0.766
 5.  R.Schumacher  Williams BMW     (M)  1:27.719    +    0.827
 6.  Coulthard     McLaren Mercedes (B)  1:28.010    +    1.118
 7.  Trulli        Jordan Honda     (B)  1:28.377    +    1.485
 8.  Villeneuve    BAR Honda        (B)  1:28.435    +    1.543
 9.  Panis         BAR Honda        (B)  1:28.518    +    1.626
10.  Heidfeld      Sauber Petronas  (B)  1:28.615    +    1.723
11.  Montoya       Williams BMW     (M)  1:28.738    +    1.846
12.  Irvine        Jaguar Cosworth  (M)  1:28.965    +    2.073
13.  Raikkonen     Sauber Petronas  (B)  1:28.993    +    2.101
14.  Alesi         Prost Acer       (M)  1:29.893    +    3.001
15.  Verstappen    Arrows Asiatech  (B)  1:29.934    +    3.042
16.  Button        Benetton Renault (M)  1:30.035    +    3.143
17.  Fisichella    Benetton Renault (M)  1:30.209    +    3.317
18.  Bernoldi      Arrows Asiatech  (B)  1:30.520    +    3.628
19.  Alonso        European Minardi (M)  1:30.657    +    3.765
20.  Mazzacane     Prost Acer       (M)  1:30.798    +    3.906
21.  Burti         Jaguar Cosworth  (M)  1:30.978    +    4.086
22.  Marques       European Minardi (M)  1:33.228    +    6.336

All timing unofficial

---