Saturday March 3rd, 2001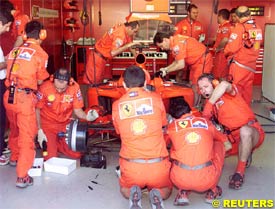 Michael Schumacher's first-ever pole position for the Australian Grand Prix was down to round-the-clock work by Ferrari's backroom staff.
The German "thanked" his mechanics after they repaired his F2001, which was sent tumbling through the air during Friday's free practice, and said his performance had been down to them.
"I am very happy," Schumacher said. "We achieved a fantastic amount with a champion car and they (the backroom staff) have produced one that is better and faster.
"They had a late night and an early morning due to my problem yesterday and they have given me another fantastic car again. They did a good job those guys."
McLaren's Mika Hakkinen, who was denied a place on the top row by Schumacher's team-mate Rubens Barrichello, admitted that he didn't get the best from his car but promised he would deliver in the race.
"I'm definitely not happy," Hakkinen said. "I couldn't get the best from the car and didn't get a good four-lap run in. I had a problem in every sector.
"It was not much fun in the car and it was very bumpy, particularly in the braking area of turn one. We struggled a bit but I've been on pole here in the last two years and I didn't win.
"I feel it is a good opportunity for me to win this year and I have to be optimistic, what else can I be?"
"I'm confident for the race and I am certainly looking forward to it. We know the car can perform better than it has done."
---