Saturday March 3rd, 2001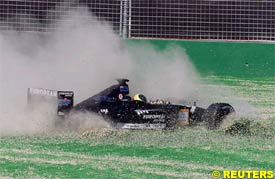 European Minardi driver Tarso Marques has been given permission to race in the Australian Grand Prix despite failing to post the necessary qualifying time, race officials have said.
The Brazilian driver crashed in qualifying and his time of 1:33.228 was not within 107 per cent of Michael Schumacher's pole time, knocking him out of the race.
But race officials have deemed that "exceptional circumstances" make it possible for Marques to race after Minardi made a plea to the stewards.
---