Saturday March 3rd, 2001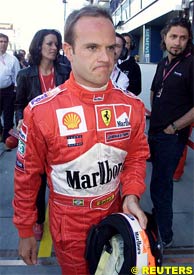 Rubens Barrichello was left frustrated after he said he was denied a final chance to claim pole position for the Australian Grand Prix by race stewards.
Brazilian Barrichello overcame McLaren's Mika Hakkinen to grab second late in the session, but claimed he could have gone faster than pole-sitter Michael Schumacher had he not been called in to be scrutinised towards the end of qualifying.
"I lost a lot of track time as they pulled me in to check me out," Barrichello said. "I think they should find a better way of doing this as I was on with a chance of gaining pole.
"I was a little upset because once again they pulled me into the checking area. I understand that they just pull out a number but I had already been in there. I could have done something different with the car, but there was no time.
"I've got an opportunity. We're starting a new season and we're on zero points for the championship. It depends on me, I feel strong but this year I'm not setting any targets. I will just go out there and do what I love doing."
---