Saturday March 3rd, 2001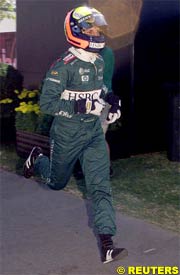 Jaguar's Luciano Burti is unsure of what caused his crash in qualifying for the Australian Grand Prix, but is certain he was not at fault.
The Brazilian driver, who raced once for Jaguar last year, had slowed as yellow flags waved after Minardi's Tarso Marques spun off the circuit. But he suddenly suffered a failure on his car and crashed into the barriers.
Burti said: "I wasn't even pushing because there was a yellow flag, and I was already coming into the pits because I'd lost too much time under the yellow flags.
"I went into the corner normally and I realised I was already crashing. There was no warning so it's pretty clear that something wrong happened. I don't know what yet."
Burti now faces a mountainous task to secure his first points finish in Grand Prix racing. He will start 21st and said his target is to "just finish the race.
"I can forget about being fast now, and anything like that, and just get a bit more experience for Malaysia, because this one is gone already."
The young driver failed to reappear in the session after his crash. The spare car was set-up for team-mate Eddie Irvine and Burti added that team-boss Bobby Rahal was concerned for the safety of the cars.
"I didn't go out for two reasons," he said. "One, it wasn't ready in time, and maybe for safety issues. Bobby (Rahal) preferred to not do it, which I can understand."
---