Saturday March 3rd, 2001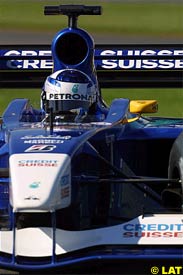 Formula One newcomer Kimi Raikkonen answered his critics on Saturday with a stunning performance in qualifying for the season-opening Australian Grand Prix.
The 21-year-old, who has just 23 single seater car races to his credit, secured his place on the grid by setting the 13th fastest time in qualifying.
"Thirteenth place in his first Formula One qualifying is really good. He did an excellent job," Raikkonen's Sauber team boss Peter Sauber said.
Raikkonen's critics have said the young Finnish driver is too inexperienced for Formula One.
Even Formula One supremo Bernie Ecclestone has admitted he did not think the Sauber driver should have been awarded a super-license.
But Raikkonen let his driving do the talking as he steered his way around the twisting Albert Park circuit in 1:28.993.
"I suppose I'm a little bit disappointed to be only 13th on the grid because I believe I could have made the top ten," Raikkonen said. "But my first-ever Formula One qualifying session went well and I'm happy."
---