Saturday March 3rd, 2001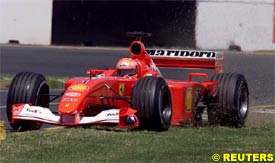 Michael Schumacher showed all the confidence of a triple champion on Saturday in taking the 33rd pole of his career and joining Briton Jim Clark and Frenchman Alain Prost in Formula One's record books.
Only the late Brazilian Ayrton Senna, who claimed a phenomenal 65 poles, has been more successful in qualifying than the trio of multiple champions.
It was typical of the 32-year-old Ferrari driver to reach his landmark with a record-breaking lap in qualifying for Sunday's season-opening Australian Grand Prix only one day after his spectacular high-speed crash.
The 32-year-old German steered smoothly around the Albert Park track and even allowed himself two additional laps in the team's spare car to complete Ferrari's preparations.
The additional chassis had never turned a wheel on a race circuit before Schumacher decided, after eight laps had shot him to the top of the time-sheets with a comfortable advantage over his rivals, that a little extra homework was in order.
"We know our car is fast," said Schumacher, who showed no ill-effects from his spectacular rolling shunt on Friday afternoon.
"Now we have to show it is reliable. I took this opportunity to try out the spare car because until then it had not been tested before."
Such fastidious attention to detail by Ferrari during a qualifying session typified their approach and left them looking down on the rest of the field.
Schumacher's team-mate Brazilian Rubens Barrichello clocked the second-fastest time in the closing minutes, regaining a front row place from Finn Mika Hakkinen in a McLaren.
This was despite losing time by being called in for a second check by the scrutineers in the closing stages.
Schumacher's Day
Though Barrichello talked of his confidence and intent on racing for a victory himself on Sunday, there was no doubt that this was Schumacher's day.
The German basked in the aftermath of an impressive display following a legal dispute over his racing helmet and then his big accident.
"Last year's car was good, as it won the championship for us, but this one is even better and that is a very great achievement by Ferrari," he said.
"My mechanics did a great job, working through the night to give me a fast car today. So I am grateful for that."
Schumacher explained his decision to take out the spare:
"The reason I took the spare right at the end was that I knew Mika (Hakkinen) had no more laps to improve with, so we decided to give the spare a run to check it was okay for tomorrow," he said.
"I am surprised that we are around four seconds faster than last year as I only expected it to be two or three seconds. For me, the reason for the improvement is that Bridgestone has given us a superb tyre and the team has made a great car.
"This year, you can feel there is more G-force when you drive, but in one way the car is easier to drive as it handles better than last year."
Barrichello showed the sort of form that could make him a regular front row starter this year and admitted that he felt more comfortable with this new F2001 than he had last year.
The session was dominated by the Ferrari men once Schumacher had set the fastest time seen at Albert Park.
McLaren's duo were unable to mount a real response even though Hakkinen was quickest after half an hour.
"I didn't get the best from the car today," said Hakkinen.
For Hakkinen's British team-mate David Coulthard, the 10-minute interruption after Brazilian Luciano Burti crashed was bad news as it spoiled his hopes of repeating his morning practice form.
"I had a bad session, a really messy one," he said.
---