Saturday March 3rd, 2001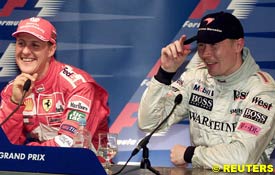 You can listen to the TV press conference at http://www.f1press.com
Q. Michael, many, many congratulations. It's the first time here you've had pole here in Melbourne and the first time the Ferrari has been so quick out of the box. You must be very happy?
Michael Schumacher: I am, certainly, and naturally. It's a great achievement Ferrari has done again after last year's car, which was already a championship car, and now we have another car which is even better than what we had last year. Thanks to my mechanics, who had a very late night or early morning, due to my little problem of yesterday, so they had to repair it and work very hard overnight, and they give me a fantastic car again to work with and to qualify first. So a great job.
Q. Your qualifying session was quite unorthodox, in that you started off by doing a five-lap run with, I think, a fast-slow-fast lap in the middle. Why was that?
MS: Probably I wanted to get used to the circuit.
Q. Then strange again at the end, you went out with, I think, less than a minute in your spare car. Why was that?
MS: Obviously I knew that there wasn't any chance for Mika to improve his lap time; he didn't have laps left, or enough laps left to go for another run, and the time was over as well. We didn't have any run with the T car so far and we just wanted to give the T car a run, to check for tomorrow if we need it, that it's performing well.
Q. Michael, thank you. Rubens, excellent performance there for second, snatching it towards the end, but how much were you hampered by the loss of so much of this morning's session after your engine problem?
Rubens Barrichello: As you could see, yesterday I was really happy with the car and I think when you kind of dominate the tests like it was yesterday, you feel very confident for the following day. By just doing a couple of quick laps this morning, it didn't help, so I went to qualify with just knowing the car I had the previous day, but not knowing very much the track today. So at the end of the day, I feel happy because I had not a lot of time on track and a bit of traffic on my last run. But apart from that, it's like Michael said, I think the guys did a fantastic job to produce a really good car, and here we are again, fighting for pole and fighting to win the race.
Q. Ferrari is a team that has lost quite a lot of running due to various niggles so far this weekend. How has that affected your ability to get a good race setup, because we've been told that the new tyres are going to be more critical in having a very good balance for a race car?
RB: I don't think we lost any particular time. Michael was unfortunate to go off the track yesterday, but I completed 40 laps. Today he did the run I did yesterday, so we're pretty equal. So we're happy with the way things are going in terms of setup. We have tested so long in Mugello in a way that we know the car on the high fuel, so I'm feeling optimistic for the race.
Q. Thank you, Rubens. Mika, it seemed like quite a difficult session for both you and David, but do you feel at the end of it you got the best out of your car?
Mika Hakkinen: Definitely not. I'm sure it could have been better. I did a four-lap run in the end and I was not able to complete a good lap, I always had a problem some sector, so I lost always a little bit of time. So I didn't get the best of the car, but then again I'm reasonably pleased.
Q. A similar question towards Rubens, but how do you feel the race setup for your team is?
MH: I'm confident we can get a very consistent car for the race, and a quick car. I'm looking forward, and I'm really looking forward to finish the Grand Prix tomorrow.
Q. Michael, obviously first race this season. We've seen the Ferrari stopped in the circuit on more than one occasion. How worried are you about reliability for tomorrow?
MS: "More than one occasion"? Rubens had a little problem this morning, but when problems happen, so early you know that you have something basically wrong. It's certainly a one- off, after all the testing experience we have had, and I'm not really too worried. In particular to what happened to me, there is a good reason why I had to stop on the circuit, and that will be no problem for tomorrow.
Q. And what was the reason?
MS: Well, I wanted to save something. I could have gone back to the pits and maybe continued afterwards, but maybe it would have caused some damage, and I wasn't sure. It wasn't the point to take a risk. We really want to keep everything tidy, together. The car is handling well. We didn't feel like we need the extra lap, and so I decided to stop.

Off-TV Press Conference
Q. Michael, well done, congratulations. It was interesting what you said just now, about that opening run, when you actually did so many laps, but the second one was actually quicker than the first one.
MS: The second lap?
Q. Yes, the second quick lap was quicker than the first one. So were you not tempted to do that again?
MS: No. We knew, when I get it right, that I could go faster. The first lap, naturally, is never as good as the second lap can be, and the improvement in the second lap was too little to feel that's the right way to go.
Q. The speed around here, has that been surprising for you?
MS: We did 30s last year, 30 low, 35. Four seconds, yes, that's surprising. I would have expected two to three seconds, honestly. I think the reason is that, first of all, Bridgestone has done a superb tyre and, secondly, Ferrari has done again a very good car. Even though we have these new rules, they have compensated very well for that, even though normally they are a very big loss.
Q. Does it feel more physical driving the car?
MS: Obviously not in qualifying. Maybe I answer that after the race. I haven't done too many race distances so far.
Q. I mean, the grip, you obviously really notice that?
MS: Naturally you would think so, because it's high G-force, but then sometimes you can go faster and even easier because the handling is better, you don't need to fight so much the car. So G-force wise it's probably more difficult, but then the handling again, I feel, definitely improved to last year.
Q. It was interesting when you stopped today - you have just mentioned that you stopped this morning - that you were happy to sacrifice the whole of the rest of the session rather than drive back. Why was that?
MS: I would have caused too much damage to the car. I think there was a bearing problem, and I would have broken maybe something on the front wheel, and I didn't want to do that.
Q. But it was worth actually losing all those laps?
MS: Yes.
Q. That's how well you are prepared?
MS: We feel very confident, yes. We've done a lot of miles. I mean initially this morning, I went out, the car felt much better than yesterday, and everything just feels very good together, we made some good setup changes, so I'm reasonably confident.
Q. You stood up on the rostrum, on the gantry there, with the cameraman. Did you learn much standing up there?
MS: It's always interesting to watch what other guys are doing, especially in the beginning of the year. I mean, we haven't been testing together, so I haven't had the chance to see the cars out on the circuit myself. So you take the opportunity, even though I would rather drive. But it was good to watch it.
Q. Thank you very much. Rubens, you had to abort a lap out there. What happened?
Rubens Barrichello: I had a problem with selecting the gear, so I had to abort, let's say, the third run. In a way, I was a little bit upset because they pulled me again into the checking area, which I understand they just pick a number and if the next is the one to stop, then that's it, that's the way it is. But we have to see, I think, a better way of doing that because it was only six minutes to the end of the session. You know, you saw that I went out and I improved my time, so I could have not done it and it was just by a little bit that I did. So I was a little bit upset to go in and check all over again. They had checked already, so I could have done something to the car, but in that chance I had to abort the lap. There was no time for me to do something different on the car.
Q. Are you a little bit disappointed, one, because of that obviously, but also the gap to Michael, because you have been so quick this weekend?
RB: In a way, no, because Michael is in front, but just for pole position itself, because I think I have been running quite well yesterday, this morning I had no track time at all, but the car is performing really well and it suits me better than last year's car for sure. I 'm feeling really good and I only had three runs in qualifying, which, you know, I must be happy with everything. That's the way it goes. But if you think that if I had the track time this morning and I could have done something better to the setup, maybe I could have done it even better.
Q. Did the track conditions change much during the session?
RB: During the session, you can sometimes get to a corner where you see grass, you see a bit of dust - there's a lot of people falling off the road. My last run, I had to overtake three cars that were right in the middle of the track. So in a way, that's the changing - apart from the temperature raising, the rest is pretty good.
Q. Mika was pretty spectacular - clipped the grass a couple of times and a bit of dust. What was it like in the car?
Mika Hakkinen: Not so much fun, to be honest. This circuit, obviously sometimes if you push really hard in your time lap, this circuit can really, really trick you quite badly. So you can have, like Burti had today, quite a bad accident, unless he had a technical problem. Anyway, this is a very, very difficult circuit to drive. So if you put the car on the limit, the car can cause you very easily, so I was on the limit one lap and tried to see if I could improve, but it didn't help too much.
Q. In fact, you have gone off at turn 1. Quite a few people have been off there. What happens there? What is so difficult about turn 1?
MH: It's a very bumpy area under braking, and it just depends what kind of setup you put in your car. If you go a little bit too low in your ride height, or a little bit too stiff or a little bit too soft in your suspension, it can cause the front tyres to lock, and then you go wide. So you must have exactly the right combination of setup, including aerodynamics. That way, you can get the front end to grip and you can get the front end in the car when you turn it in. So that is basically the case in the first corner.
Q. You mentioned that you weren't particularly happy during qualifying, that you weren't happy with the car. What has been the problem with the car?
MH: It's a bit unfair for me to say I am not happy with the car. Always when you are not in pole position, you have some car type of problems, otherwise you would be on pole. There was some balance issues with the car what I was not able to - we weren't able to sort out in a qualifying, and that's why we weren't able to go quicker. Then we did change the tyres, a couple of my runs were with brand new tyres first, and then we put a new set on the front and new ones on the rear, and I didn't get the right balance to the car, and that's what happened on my last run, I couldn't improve. But the run before that, I was on new tyres front and rear, and I was going well, my lines were good and everything was handling very well and I had a good balance with the tyres, and then a red flag just a couple of corners before the end. It was very disappointing, but that's what it's like. To be honest, I'm not too concerned about the situation where I am at the moment, because I know, from experience, last couple of years I have been on pole here, quite a big margin a couple of times, and you all know what has happened in the race. So I'm looking now much optimistically to tomorrow's race to finish it, in first.
Q. It's interesting you can be so confident when there are two Ferraris on the front row. How did you manage it?
MH: I have to be.
Q. You have to be?
MH: Yes, absolutely. (Laughs)
Q. Rubens, do you feel there's a little left in you, that you can challenge Michael head-to-head with him during the race? Will you be given that opportunity, indeed?
RB: The opportunity, I think so. It's not a problem with that. I mean, we're starting a new season, we have zero points in the championship. I don't think it's a problem with that. It depends on me. I am feeling strong. I feel that I'm better than I have ever been, I'm feeling really good inside the car. Tomorrow, I just go and race and see. As I said, this year I'm not setting any targets for the thing. You just go there and do what you love, and that's what I'm doing right now.
Q. Michael, is this a good omen for the rest of the championship, to start so strongly - even though you won here last year?
MS: What does it mean, "a good omen," honestly? We know that the car is fast, this is the important bit, and then we have to show it is reliable is the next bit, and we can prove that tomorrow.
---