Sunday March 4th, 2001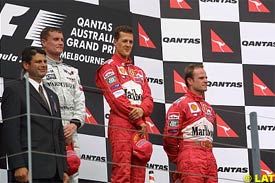 Michael Schumacher started the 2001 season where he left off last year as he dominated the Australian Grand Prix on Sunday to take the first win of the new campaign. Unfortunately, the race was again overshadowed by the death of a track marshal.
Ferrari driver Schumacher led from pole position to the chequered flag to take a maximum 10 points in the first race of the season. The win was his fifth consecutive victory from pole, after four successive wins at the tail-end of last season. It was also Schumacher's 45th career win.
At the start of the 58-lap race, Schumacher maintained first place and by the end of the first lap was 1.2 seconds clear of second-placed Mika Hakkinen. Schumacher's Ferrari team-mate Rubens Barrichello had suffered a bad start and dropped from second to fifth place before the first turn.
Barrichello battled back to pass Ralf Schumacher in fourth and then clashed with Heinz-Harald Frentzen's Jordan while pushing for third. Barrichello clipped the back of the Jordan and sent Frentzen into a spin on lap 2 to take third place.
The first significant action of the race came on lap 5 as British American Racing's Jacques Villeneuve crashed into the back of the BMW-Williams of Ralf Schumacher.
Villeneuve and his car were launched through the air at high speed and spun 180 degrees before hitting a wall at turn three.
Schumacher and his car stopped on the adjacent grass but the race was run under the safety car as a result of the accident. Both Villeneuve and Schumacher were unhurt, but the safety car stayed out for 10 laps as paramedics attended to an injured person, believed to be marshal hit by debris, at the scene of the accident.
Earlier in the race, Gaston Mazzacane had retired on the first lap in his Prost after Juan Pablo Montoya in a BMW-Williams and Jaguar's Eddie Irvine had suffered offs at turn one and two respectively but recovered.
Arrows new driver Enrique Bernoldi went out on the second lap as he hit a wall close to the Villeneuve crash, while Minardi driver Tarso Marques, who had been given special dispensation to race after failing to qualify inside the required time, retired on lap 3.
Jenson Button had made two places at the start from 16th place but on lap 18 his race was ruined as he was given a 10-second stop-go penalty because his mechanics were still on the grid at the start of the formation lap.
Schumacher, meanwhile, maintained his lead at the front as he set five consecutive fastest laps from lap 17 to 21. His lead was extended further by lap 26 as his closest rival Hakkinen crashed his McLaren out of the race.
Finn Hakkinen went into a tyre wall backwards at high speed as he suffered a suspected suspension or brake failure at turn 13.
Jordan's Jarno Trulli lost places with a mechanical problem on lap 33 and he dropped back from fourth place before retiring on lap 40. On lap 34, McLaren's David Coulthard took second place from Barrichello with a good overtaking manoeuvre.
Barrichello had been held up by the Minardi of Fernando Alonso which allowed Coulthard to catch up and overtake the Brazilian driver at turn three.
Schumacher came in for his only pit-stop on lap 37 and took 10.7 seconds to change tyres and re-fuel as most other teams also brought their drivers in at this time.
Coulthard came in for his stop on lap 41 and took 10.3 seconds, but Schumacher regained the lead while he was in the pits. Coulthard, however, rejoined the race in second place ahead of Barrichello.
Prior to Coulthard's pit-stop, Montoya's race ended on lap 40 as his BMW engine blew and left him stranded on the track. The man he replaced at Williams, Jenson Button, was the last driver to retire as he stopped four laps from the finish in his Benetton.
Schumacher kept a safe distance of around seven or eight seconds to Coulthard in the closing laps as he secured the first win of the season in Australia. Barrichello was third, Olivier Panis fourth in his BAR, Nick Heidfeld fifth for Sauber and Frentzen sixth to make up the points finishers.
PROVISIONAL RACE RESULTS (AMMENDED AFTER SAUBER APPEAL)

The Australian GP
Albert Park, Melbourne;
58 laps; 307.574km;
Weather: Dry, partly cloudy.

Classified:

Pos  Driver        Team                  Time       
 1.  M.Schumacher  Ferrari          (B)  1h38:26.533
 2.  Coulthard     McLaren Mercedes (B)  +  0:01.700
 3.  Barrichello   Ferrari          (B)  +  0:33.400
 4.  Heidfeld      Sauber Petronas  (B)  +  1:11.400
 5.  Frentzen      Jordan Honda     (B)  +  1:12.800
 6.  Raikkonen     Sauber Petronas  (B)  +  1:24.100
 7.  Panis         BAR Honda        (B)  +  1:27.000 *
 8.  Burti         Jaguar Cosworth  (M)  +  1 Lap   
 9.  Alesi         Prost Acer       (M)  +  1 Lap    
10.  Verstappen    Arrows Asiatech  (B)  +  1 Lap    *
11.  Irvine        Jaguar Cosworth  (M)  +  1 Lap   
12.  Alonso        European Minardi (M)  +  2 Laps  
13.  Fisichella    Benetton Renault (M)  +  3 Laps  
14.  Button        Benetton Renault (M)  +  6 Laps   **

 * Penalised for overtaking under yellow
** Retired 6 laps before race finished

Fastest Lap: M.Schumacher, 1:28.214 (216.414 km/h), lap 34

Not Classified/Retirements:

Driver         Team                On Lap  Reason *        
Montoya       Williams BMW     (M)  41
Trulli        Jordan Honda     (B)  39
Hakkinen      McLaren Mercedes (B)  26
R.Schumacher  Williams BMW     (M)   5
Villeneuve    BAR Honda        (B)   5
Marques       European Minardi (M)   4
Bernoldi      Arrows Asiatech  (B)   3
Mazzacane     Prost Acer       (M)   1

* To be added...

World Championship Standing, Round 1:                

Drivers:                    Constructors:             
 1.  M.Schumacher  10        1.  Ferrari             14
 2.  Coulthard      6        2.  McLaren              6
 3.  Barrichello    4        3.  Sauber               4
 4.  Heidfeld       3        4.  Jordan               2
 5.  Frentzen       2                                  
 6.  Raikkonen      1                                  

All timing unofficial

---