Sunday March 4th, 2001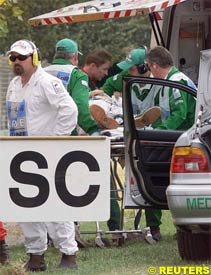 An Australian Grand Prix  marshal was killed after being struck by flying debris during  the first race of the Formula One season on Sunday. 
No immediate details were available but Ferrari's race  winner Michael Schumacher told a subdued post race news conference in Melbourne that he had been told the marshal had  died. 
"Unfortunately we have just been told that the marshal did die," said the German world champion. 
"Obviously we are all shocked about this. Certainly everyone is very much down for the situation." 
Briton David Coulthard, who was runner-up in the race in a McLaren, offered condolences to the marshal's family and said  his race was insignificant in the context of a life lost. 
"We need obviously to study how we can improve track safety  for these people who give their time for us to enable us to go  racing," said the Scot. 
It was the second time in less than a year that a marshal  had been killed at a Formula One race. 
Italian Paolo Gislimberti died at Monza last year when he  was hit by flying debris in the first fatality suffered by  Formula One at a circuit since the death of Brazilian world  champion Ayrton Senna at Imola in 1994. 
The Melbourne marshal was apparently hit after the BAR of  former champion Jacques Villeneuve collided with the Williams of  Ralf Schumacher, Michael's younger brother. 
The BAR flew at speed into safety fences, scattering debris  across the track and losing its wheels. 
BAR team principal Craig Pollock said there was a deep sense  of shock in the paddock. 
"I would just like to send my sincere condolences to the  family," he said, "There was not much we can say because we  don't know the full circumstances about the accident." 
More details to follow
---