Sunday March 4th, 2001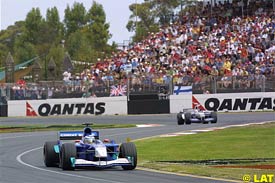 Sauber confirmed after Sunday's Australian Grand Prix that they have lodged an official complaint against both British American Racing's Olivier Panis and Arrows' Jos Verstappen.
The Swiss team claim that their driver Nick Heidfeld, who finished fifth and scored his first ever points, was illegally overtaken by both Panis and Verstappen while the race was under yellow flags.
Heidfeld's team-mate Kimi Raikkonen finished seventh in his Formula One debut, but should race officials rule that BAR driver Panis illegally passed Heidfeld, a stop-go penalty for the Frenchman would give Raikkonen a debut points finish by promoting him to sixth.
Heidfeld, who did not comment on the incident, said: "Scoring my first world championship points is excellent, and this one race has wiped away my 2000 season.
"I avoided traffic in the first corner, and later got safely through the big accident (Jacques Villeneuve and Ralf Schumacher) when thousands of pieces seemed to be falling from the sky. After that I was able to settle down to a good pace.
"The car and our Bridgestone tyres were consistent all the way through, and even at the end when I had real pressure from Heinz-Harald Frentzen, I was able to keep cool and keep pushing. Finishing fifth is a very exciting way to start the season."
Raikkonen, 21, was delighted with his seventh place finish after a slow start as he demonstrated he can do a job in Formula One.
"It's nice to finish my first Grand Prix in the seventh position," Raikkonen said. "I made a pretty bad start, which didn't help, but then I got into my rhythm.
"My only problem was some understeer initially on my second set of tyres, which prevented me from going after Heinz-Harald Frentzen, but gradually the balance came back and I could push hard. It's been a good day, and a good start to my F1 career."
---