Sunday March 4th, 2001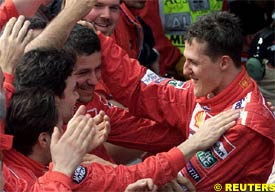 Reigning world champion Michael Schumacher started the defence of his title in the best possible fashion with his 45th career win and said he was careful not to "overdrive" the F2001 car.
"Any time I wanted to be fast I was able to go fast," said Schumacher, who has now won the last five Grand Prix races from pole position. "What is good is that we seem to be able to do good starts and I didn't have to overdrive the car.
"Obviously we can be confident for the rest of the season, but we don't need to be over-confident. I just need to finish first, I don't need to have a huge gap.
"We haven't done many race distances, and there was no need to stress the car. We have a car that's capable of doing pole positions straight out of the box, and what's more, it's reliable and that is a good sign."
Schumacher's team-mate Rubens Barrichello finished third behind McLaren's David Coulthard after he recovered from a slow start, but the Brazilian blamed Minardi new-boy Fernando Alonso for costing him second place.
"It was a difficult race from the beginning because I had all sorts of problems," Barrichello said. "I didn't have a particularly good start and Mika (Hakkinen) and Ralf (Schumacher) got past even though I was running faster.
"Then it was a Minardi, with Alonso, a new-boy coming into the race and he probably didn't look at the blue flags at the end of the straight. That meant David (Coulthard) had a good run and he went round the outside. To score some points is quite good."
Technical director Ross Brawn added: "We haven't done as many race runs as we would have liked to get the car ready. We were always concerned about getting to the end of the race.
"It was pretty tense but it was a good result. We had a problem with radio communications. We couldn't hear Michael clearly and wanted him to let us know he could hear us so he tapped his helmet to indicate he could."
---