Sunday March 4th, 2001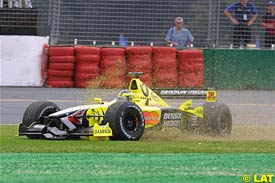 Ferrari driver Rubens Barrichello received the wrath of Jordan's Heinz-Harald Frentzen after the pair collided at the Australian Grand Prix.
German Frentzen believed he could have achieved a podium finish in Melbourne but for the incident with Barrichello on lap two, for which he blames the Brazilian driver.
Frentzen was running in third place when Barrichello clipped the rear-right side of his Jordan and sent him into a spin onto the grass at turn nine.
Frentzen, who recovered to finish sixth, said: "I was pleased with my start although Coulthard and I touched wheels before the first corner.
"The car was very well balanced and I was enjoying the race, but then on my racing line, Barrichello hit me from behind whilst trying to overtake me and pushed me into a spin. That ruined the race for me.
"After that I chased Nick Heidfeld for the last ten laps and did everything I could, but was not able to close the gap. I feel, however, scoring a point in the first race of the season is a good result for the team and demonstrates our reliability."
Frentzen's team-mate Jarno Trulli retired from the race on lap 39 with an engine problem and said that despite his impressive performance in the first half of the race the problem had hampered him from the start.
Trulli said: "From the first lap there was something not quite right with the engine, and it got more and more difficult each lap until I had to retire.
"It's disappointing because I was having a good race in fifth position, and even with this problem I was still holding off Panis and making ground on Coulthard.
"The positive thing from this race is that I had a good set-up as we were able to understand and resolve the problems I experienced during qualifying."
---