Sunday March 4th, 2001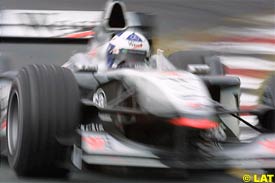 McLaren driver David Coulthard said he ignored fears that his suspension would fail to finish in second place in the Australian Grand Prix.
Coulthard held off the challenge of Ferrari's Rubens Barrichello to finish runner-up to Michael Schumacher. But he had to complete 32 laps knowing that a suspension fault had ended his team-mate Mika Hakkinen's race in a high-speed crash.
Hakkinen suffered a mild concussion after crashing backwards into a tyre wall at the Stewart bend on lap 26 when his front-right suspension failed.
"All things considered, I've got to be happy with six points this weekend," Coulthard said. "We didn't go into the race expecting anything to be fragile but it happened with Mika.
"You've always got to expect reliability issues in the first race, but there was no particular reason to pull me out of the race for that.
"The way modern Formula One is, there's so little speed difference between the cars that it's difficult to overtake them on the straight. You have to take these opportunities when they come along and I did that with Rubens."
Hakkinen confirmed that a mechanical failure had caused him to crash but the Finn was unsure of the specifics. He believed he could have won the race but for the incident.
Hakkinen said: "Something broke on the car, which caused me to go off the track and hit the barrier at the entry of Stewart. I hit the brakes and then lost control of the car.
"I went to the medical centre for a check-up as something hit my helmet but I'm fine. It was a shame as we were looking good and in hindsight our strategy might have given us a race win."
---