Sunday March 4th, 2001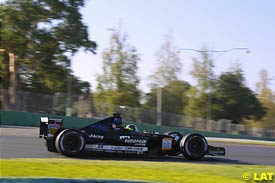 Fernando Alonso silenced the critics who questioned his introduction into Formula One by driving a solid race to finish the Australian Grand Prix 12th.
Spaniard Alonso, 19, held-up Ferrari's Rubens Barrichello at one point but otherwise drove a confident race and gave his team boss Paul Stoddart a dream start to the 2001 season.
"The objective was to finish the race, and that is what happened, so it couldn't have turned out better," said Alonso. "The team worked flat-out over the weekend and the race result is a clear demonstration of that.
"My car went really well over the whole race, allowing me to push hard until the end. I am sorry for getting in Barrichello's way.
"I was rejoining the track after stopping in the pits and visibility in the rear-view mirrors was reduced. I only saw him at the very last moment when it was already too late to let him past."
Alonso's team-mate Tarso Marques had a brief re-introduction to Grand Prix racing and blamed a lack of pre-season testing time for the team's teething troubles after he retired in the opening laps with a suspected battery problem.
Marques said: "There was a problem with my car from the first lap, I think from the battery. It started to misfire and then got worse until the engine stopped altogether.
"Also I wasn't really happy with the brakes all weekend, and after a couple of laps of the race, the pedal developed too much travel and became soft. But I think the car is basically very good and I'm sure things will be better in Malaysia."
Team principal Paul Stoddart was naturally delighted with the performance of his team and backed Marques to come good in a trouble-free car.
"To take 12th place on our maiden outing, there are just not the words to describe the feeling," Stoddart said. "Fernando showed what he is capable of and proved that we need to be taken seriously this year.
"I feel for Tarso, as without exception, every technical problem the team encountered all weekend was on his car. I'm certain we'll see a lot more of his true potential in Malaysia."
---