Sunday March 4th, 2001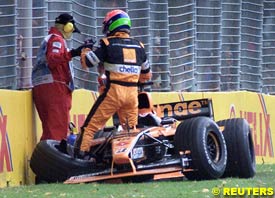 Formula One debutant Enrique Bernoldi was disappointed with a simple error that sent him crashing out of his first Grand Prix on Sunday.
The 22-year-old Brazilian struggled to get off the grid, and crashed on the second lap to end his race. "It was not the result I wanted on my first Grand Prix," said Bernoldi. "It was a mistake."
"I didn't get the best start and lost two places in the confusion at the second chicane. The car felt good during the first couple of laps," he said.
But things went wrong when he made the mistake trying to catch fellow new-boy Kimi Raikkonen, and a disappointed Bernoldi explained: "I got a wheel on the grass and lost the car, race over."
Team-mate Jos Verstappen, however, was pleased to make it to the end of the Australian Grand Prix. The Dutchman had a good race and finished ninth but he was penalised by a post-race penalty of 25 seconds for overtaking Nick Heidfeld's Sauber under yellow flags and dropped to 10th.
"I had a lot of understeer so wasn't able to push as hard as I would have liked but I had a really good start," said Verstappen. "I passed about four cars there and by the time the safety car came out I was seventh.
"But most important for the team is that we finished the first race. We know what we have to do and hopefully we can get this done in a short time."
---