Sunday March 4th, 2001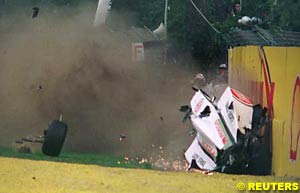 Williams's Patrick Head led calls by technical chiefs for better safety measures in Formula One races following the death of a track marshal at the Australian Grand Prix on Sunday.
Head joined former world champion Jackie Stewart, a regular campaigner for increased safety in Formula One, who earlier called for higher fences and more protection for spectators and officials.
Ferrari driver Michael Schumacher's victory paled into insignificance when it was revealed that the marshal died after being struck by flying debris from the fifth-lap accident between Ralf Schumacher and Jacques Villeneuve.
"You've got to ask if the marshal had proper protection where he was standing because if you have open wheel racing cars, it does not matter what you do about tying bits to the car," Head said.
"These cars are immensely fast and if they hit each other there are going to be bits flying around and you have to be realistic and decide how you are going to deal with it.
"I think the marshals will have to have more robust protection around them. There is no need to have a man with a flag out there - you can have a button to push with an arm that can come out with a flag on it."
Stewart, referring to world body FIA's introduction of a double tethering system to help prevent wheels flying off, said: "We've got to do even more about tying the wheels together...we need to do it even for wings and so forth.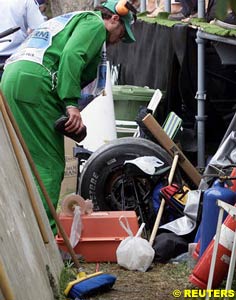 "At 200 or 300 kph, you don't know where that type of debris is going to go.
"You have to ring-fence the race tracks with higher and stronger debris fences. You then have to police where the marshals stand," Stewart said.
"I've just come back from Daytona where they run the 24-hours race. The debris fencing there is very high and very, very strong. Very expensive, too, but it may be that we've got to go in this direction."
Overshadowed
The death of the volunteer marshal in Melbourne, following a similar fatality at Monza last September, overshadowed the season-opening race.
Ferrari did not celebrate in public following triple champion Michael Schumacher's fifth successive win and first of the new championship year.
After Monza, the International Automobile Federation (FIA) brought in new rules to improve safety standards and slow the cars. They included the introduction of doubled tethers.
Ferrari's Ross Brawn said: "It is a very tragic event when someone who gives their time to our sport suffers like this in this way.
"It is a very tragic day and our thoughts all go out to his family. That impact today was so severe it is difficult to know what you could do."
Head absolved his driver of blame. "Ralf said he braked at a normal position and I think the data will show that," he said.
British American Racing (BAR) managing director Craig Pollock, who agreed with Head's views on spectator and marshal safety, revealed Villeneuve had been to hospital for a check-up.
"When he first got out of the car, the adrenaline was pumping and he was his normal self," said Pollock. "But now he has settled down and the pain is settling in and he feels it.
"The realisation of what has happened has hit him too and he is very sorry for the official and his family."
Ralf Schumacher was not injured and the marshal is yet to be named by the Confederation of Australian Motor Sport, who are investigating the accident.
---