Sunday March 4th, 2001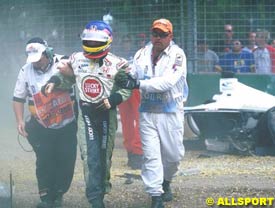 BAR driver Jacques Villeneuve admitted himself to hospital in Melbourne, several hours after he crashed at the Australian Grand Prix.
The French Canadian complained of back aches and bruises following the accident, however a BAR spokesman said his injuries are light.
"He has not gone because of the emotion over the accident, but because his back is starting to stiffen up," the spokesman said. "He is shocked and saddened for the family of the marshal. He did not know anybody had been killed in the accident when he got back to the pits."
Villeneuve had seemed initially unharmed. However, having been checked by a doctor he is now thought to be suffering from back stiffness and bruised ribs, primarily due to the seatbelt pressure he endured though his shunt, following a collision with Williams driver, Ralf Schumacher.
---